Restaurants & Bars
From award-winning modernist cuisine to authentic Mexican and Caribbean, the restaurants and bars at Azul Beach Resort Riviera Cancun are destinations in themselves. And the decor is a different sort of feast, whether colorful, casual, elegant or lit up by bright beach views.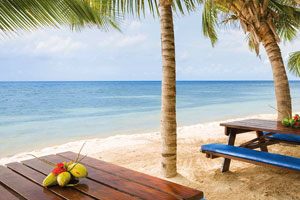 Beach Bar
Enjoy a spectacular view of the Caribbean while sipping a premium cocktail. Kick off your flip-flops and enjoy the fresh sea breeze.
Hours: 10:00 am – 4:00 pm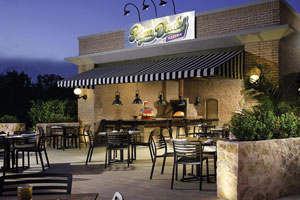 Gourmet Corners
BBQ Grill:
If the unmistakable aroma of BBQ doesn't lure you in, the spectacular views will. Enjoy an array of grilled specialties at this casual beachfront lunch spot. Favorites include hamburgers, hot dogs, grilled sausages, BBQ ribs, and a variety of fresh, seasonal vegetables — all charred to your liking.
Hours: Lunch 11:00 am - 3:00 pm
Pizza Dude!
Turn a subtle pizza craving into a newfound passion for our crispy creations. Choose from a great variety of toppings and specialty pies — all the favorites of the Teenage Mutant Ninja Turtles®.
Hours: 11:00 am - 6:00 pm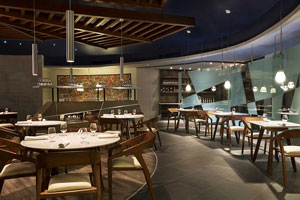 Le Chique
Avant-Garde (Modernist) Cuisine
Award-winning cuisine and a sensory-rich dining experience will delight you to no end at Le Chique. Acclaimed as a AAA Five Diamond restaurant and winner of "Best Restaurant in Mexico" by Travel + Leisure México, this modernist concept pushes the boundaries with its innovative tasting menu and inventive presentation to match. Imagine your server arrives with a savory dish that challenges your perception of taste and texture, and is served in a hollowed-out book. At the helm of this creative display of genius is Chef Jonatán Gómez Luna and his team, who have mastered the art and science of culinary experimentation and expression.
Reservations: Required
Hours: Dinner 6:00 pm - 10:00 pm (Closed on Sundays)
Cost: Additional charges apply
The Tasting Menu is $150 USD/pp
For hotel guests $110 USD/pp
Adults only restaurant (18 yrs +)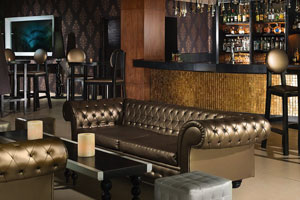 Mojito Lounge
Adults Only 18+
The minty Mojito is reimagined 18 different times at this tropically chic lounge. Discover the many dimensions of a beloved Caribbean classic. With a DJ spinning your favorite tunes and beautiful views of the Caribbean, Mojito Lounge is the place to sip and be seen.
Hours: 11:00 am - 2:00 am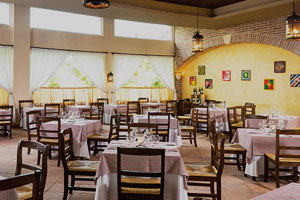 Siena
Italian Cuisine
Timeless Tuscan cuisine is served in a quaint setting that looks and feels like an Italian wine cellar. Enjoy fresh pasta dishes made by hand, brick-oven roasted pizzas, authentic sauces simmering with fresh herbs, and decadent desserts from the Old Country.
Hours: Dinner: 5:30 pm - 10:30 pm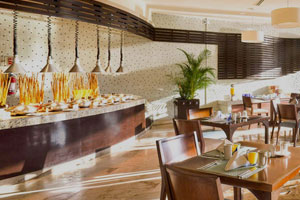 Spoon
World Cuisine
Spoon draws its inspiration from all corners of the globe, and delivers a world-class experience every time. An open kitchen concept complete with interactive stations makes it possible for guests to be engaged as they watch international cuisine and flavors come together right before their eyes.
Hours: 6:30 am - 10:30 pm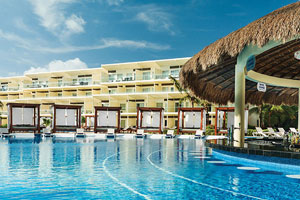 Swim-Up Bars
Our swim-up bars give a whole new meaning to gathering at the watering hole. Sip on your favorite cocktails while enjoying a leisurely dip in the pool at any of our three bars.
Waves: Tucked away in the adults-only section of the pool, Waves Bar is the perfect place to quench your thirst with a frozen margarita or a frosty beer of choice. Then once the sun goes down, a DJ keeps the party going.
Zocalo: Be immersed in the authentic Mexican cantina experience at Zocalo. Against a stunning Caribbean backdrop, creative mixologists craft tequila libations and serve a wide selection of domestic beers.
Zavaz: Surrounded by pristine pool waters, Zavaz is an idyllic lounge to kick back and relax with your favorite beverage in hand. A bistro menu offers Caribbean bites to go with your tantalizing cocktail.
Hours: 10:00 am - 5:00 pm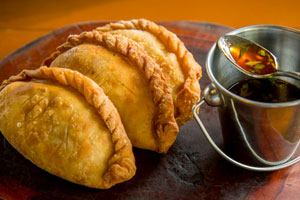 Tapaz
Spanish Cuisine
Discover the tapas culture of Spain right here in Riviera Maya. Indulge in savory bites that showcase Iberian delicacies, all served with sharing in mind. And with oversized tables, there's plenty of room to create a feast for the senses.
Hours: Dinner 5:30 pm - 10:30 pm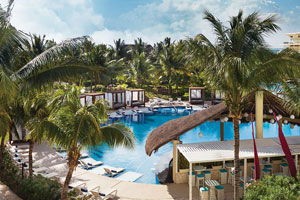 Waves Bar
Adults Only 18+
Tucked away in the adults-only section of the pool, Waves Bar is the perfect place to quench your thirst with a frozen margarita or a frosty beer of choice. Then once the sun goes down, a DJ keeps the party going.
Hours: Swim-Up Bar: 10:00 am - 5:00 pm
Lounge Bar: 10:00 am - 10:00 pm
Hookah Bar: 6:00 pm - 11:00 pm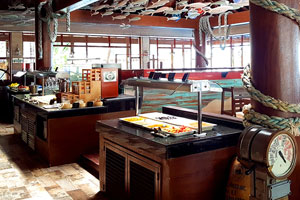 Zavaz
Caribbean Cuisine
Entice your taste buds with an endless display of Caribbean fare. Jumpstart your day with a hearty breakfast. Try one of our signature patties at the Gourmet Burger Bar for lunch. Then for dinner, our complete menu includes seafood and grilled meat selections, prepared to perfection with the essence of the islands. The best Caribbean cuisine in the Mexican Caribbean.
Hours: Breakfast: 7:00 am - 10:30 am
Lunch: 12:00 pm - 3:00 pm
Dinner: 5:30 pm - 10:00 pm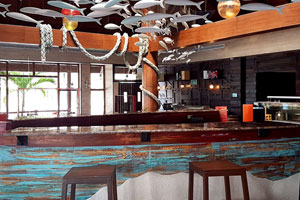 Zavaz Lounge
Surrounded by pristine pool waters, Zavaz is an idyllic lounge to kick back and relax with your favorite beverage in hand. A bistro menu offers Caribbean bites to go with your tantalizing cocktail.
Hours: 10:00 am - 10:00 pm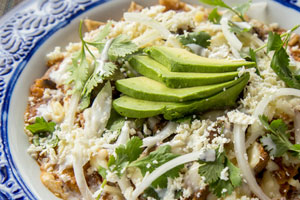 Zocalo
Authentic Mexican Cuisine
Zocalo Mexican restaurant is a vibrant celebration of food infused with local rhythms and regional recipes awaits you. This family-friendly oceanfront eatery serves up tasty Mexican classics and sweeping Caribbean vistas.
Hours: Breakfast: 7:00 am - 10:00 am
Dinner: 6:00 pm - 10:00 pm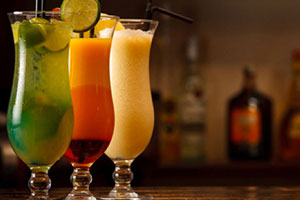 Zocalo Cantina
Tequila, Beer
Be immersed in the authentic Mexican cantina experience at Zocalo. Against a stunning Caribbean backdrop, creative mixologists craft tequila libations and serve a wide selection of domestic beers.
Hours: 10:00 am - 1:00 am