Restaurants & Bars
The Gourmet Inclusive® restaurants and bars at Azul Beach combine the finest international cuisine and all premium drinks in a variety of hip and extraordinary settings. There are five restaurants, 24-hour room service and over 30 tequilas in the tequila lounge. And because true appreciation for fine cuisine comes with age, Azul Beach also practices the art of keeping things simple for our younger guests. Homemade, bubbling, lightly browned mac & cheese anyone?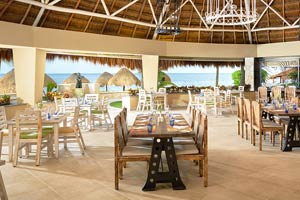 Blue
World Cuisine
At Blue, guests are delighted by our "food for all and all for food" concept – hearty, family-style lunches that include soups, pastas, salads and gourmet sandwiches. This popular restaurant offers Mexican and International fare with a fine selection of cheeses, desserts and coffees.
Restaurant Hours
Food display 6:30 am - 11:00 am
À la carte service 6:30 am - 11:00 pm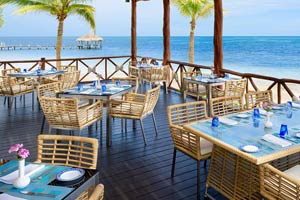 CHIL
Contemporary Cuisine
The perfect spot for relaxation, designed in a Mexican – Caribbean style with breathtaking views of the Caribbean Sea. Chil offers an array of burgers, salads, wraps, tacos and burritos. During the week this restaurant hosts Nickelodeon themed breakfast.
Restaurant Hours
Lunch 12:00pm – 5:00pm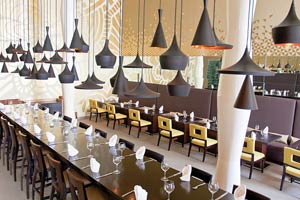 LATINO
This bistro is a vibrant celebration of food, energy and music, culinary preparations from the Southern tip of the Americas up to the Northern part of Mexico. Refreshing and unpretentious, Latino is the perfect place for family celebrations with enticing meals including an impressive kids menu.
Restaurant Hours
À la carte dinner 5:30 pm - 10:00 pm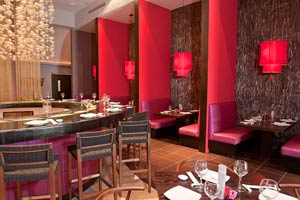 TAINAN
Tainan is the name of the ancient capital of Taiwan, renowned for its splendid food, taste and exotic creativity. Tainan Restaurant features spectacular Asian-inspired cuisine served in generous portions. Among the dishes that are known far and wide are sashimi, Pacific Rim, Wok specialties, sushi river bar and succulent main courses prepared using the finest authentic ingredients.
Restaurant Hours
À la carte dinner 5:30pm - 10:00pm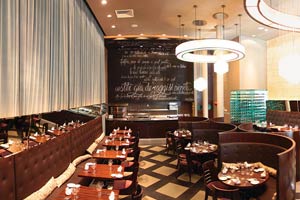 ROMA
Roma's open granite kitchen offers world-renowned Northern Italian dishes prepared by International Chefs who turn every meal into a culinary adventure. At Roma you will experience upscale service and savor celebrated wines in an elegant setting, with generous portions prepared with only the freshest ingredients.
Restaurant Hours
Dinner 5:30 pm - 10:00 pm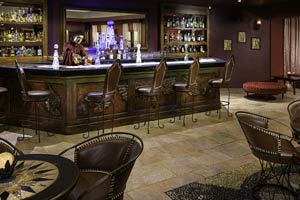 Agavero
Tequila Lounge
Get a real taste of Mexico at this unique and spectacular tequila lounge, a living replica of a 19th century Cantina, where modern designs melt with classic furniture of the Pancho Villa era. Agavero is home to Riviera Maya's only frozen bar top, designed to keep drinks chilled at all times. Choose from over 30 different tequilas including Añejo, Reposado and Blanco, served straight, frozen or mixed. Enjoy fabulous drinks, play table games or simply listen to music while hanging out with friends.
Adults only (18 yrs +)
Bar Hours 5:00 pm - 1:00 am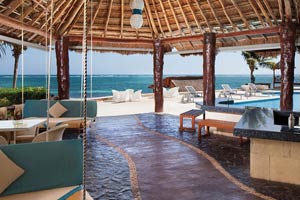 Aquanox Bar
Exciting tropical drinks are prepared to your taste at this thatched-roof lounge and swim-up bar. At night, kick back and enjoy the nightly entertainment or live music while sipping your favorite drink and lounging in one of our famous "hanging" beds with unforgettable views of the Caribbean Sea.
Bar Hours10:00 am - 11:00 pm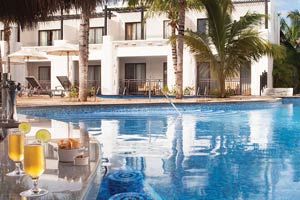 Bubbles
Swim Up Bar
Caribbean alcoholic and non alcoholic beverages are prepared with a wide selection of fruits and international spirits for you to consume near the relaxing pool.
Bar hours 10:00 am - 5:00 pm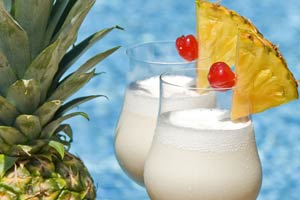 Chil Bar
The name says it all. Chil is a great place to relax while enjoying Caribbean drinks prepared with a wide selection of International spirits for you to sip poolside or right on the beach.
Bar Hours 12:00 pm - 5:00 pm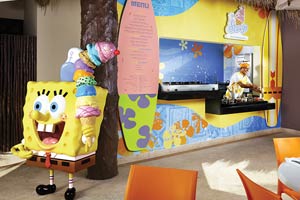 Scoop
In this "spot on the corner", enjoy different types of paninis, savory crepes, sweet crepes, or choose an ice cream from SpongeBob's amazing ice-cream factory and complement it with one of more than 20 types of toppings.
Hours 10:00 am - 5:00 pm
INDIGO DENIM BAR
Here we serve many perfectly-mixed drinks, from apple martinis and raspberry cosmopolitans to various wine based mixology cocktails, all topped off with some truly cool rock & roll music. The smart styled décor is complete with denim furnishings and clean-lined interiors.
Opens daily6:00 pm - 2:00 am
AMBER OCEANFRONT BAR
With a circular bar design located in the heart of the resort, right on the beachfront of the World famous Seven Mile beach. Sophisticated and chic yet unpretentious, this is the ideal setting to enjoy tropical cocktails while listening to music and watching coral and lavender hues streak the sky at sunset.
Bar Hours10:00 am - 11:00 pm
TAMARIND POOL BAR
Located between building 8 and 9 and for exclusive use of out Premium Section guests. Tamarind serves mouthwatering frozen cocktails, international premium brands, this bar has spectacular views of the Caribbean Sea.
Bar Hours10:00 am - 6:00 pm
SEVEN MILE
OCEANFRONT BAR
This International bar features relaxing oceanfront swings and tropical libations on Negril's world-famous Seven Mile Beach.
Open daily 10:00 am - 11:00 pm
SWIM-UP BARS
For the ultimate cool down and the one of the best ways to spice up a relaxing vacation, belly up to one of Azul Sensatori Jamaica's two swim-up pool bars. They add a whole new meaning to watering hole.
Bar Hours
Poinsettia 10:00 am - 6:00 pm
Hibiscus 10:00 am - 6:00 pm
Cusco
Peruvian cuisine is known as one of the premiere examples of fusion dining. We have mastered this multi-cultural tradition. Enjoy these magical dishes throughout the day. Next to bldg.94 and wedding kiosk. Breakfast buffet; 7 a.m. -11:30 a.m. Lunch buffet: 12:30 p.m - 4:30pm Dinner a la carte 6 p.m. - 11 p.m.
Lounge Bar
Ease into the evening in this casually elegant bar stocked with world-class spirits, beers, and expertly-crafted cocktails. Second level (5pm-11pm).